Austin Air - Allergy Machine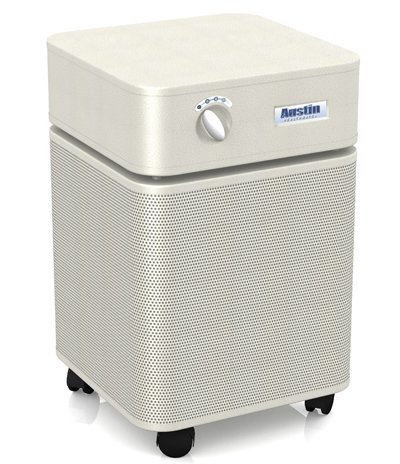 Austin Air - Allergy Machine
Designed for Allergy and Asthma sufferers
Specialty air cleaner with 60 sq. ft. of medical HEPA, certified to remove 99.97% of airborne particles 0.3 microns or larger. A military carbon cloth is used in place of granular carbon, and is located after the HEPA, enabling the carbon to be more efficient. Comes with wheels for easy portability. Effectively cleans an area of 1500 sq. ft. (with normal ceiling heights).

Unit size: Stands 23" tall x 14.5" wide x 14.5″ wide
Benefits of clean air:
Sounder Sleep




Reduced Snoring




Stop Sneezing




Reduce nighttime allergies & asthma attacks




Strengthen your immune system




Reduced coughing and wheezing




Eliminate dry mouth and runny nose
Who should consider the Allergy Machine?
Allergy and asthma sufferers




Those highly reactive to dust, pollen and other allergens




People close to trees and plants, populated areas, farms, cities and roads



Why is the Allergy Air Purifier the best choice?
Designed specifically for allergy and asthma relief




Special filtration for removing allergens, chemicals and gases from the air




Removes viruses and bacteria




Quickly stops sneezing, coughing and stuffy noses related to seasonal and annual air problems




Warranty:
Backed by the best warranty in the industry, you can take pleasure in knowing you've made a sound investment with your Austin Air cleaner.


30-Day, No-Questions-Asked, Money-Back Guarantee

In the unlikely event that you're not completely satisfied with your Austin Air cleaner, return it within 30-days, no-questions-asked.



5-Year Mechanical Warranty

Your Austin Air cleaner is warranted to be free from defects in material and workmanship for a period of 5-years from the date of purchase; provided your Austin air cleaner was operated under normal residential use and that you have completed.



5-Year Pro-rated Filter Warranty
Austin Air offers a 5-year pro-rated filter warranty, by far the most comprehensive in the industry. No more costly filter replacements every few months or even years. Austin Air filters are designed to last for an amazing 5-years, under
Reviews