MERV11 20 x 20 x 1, BOX OF 12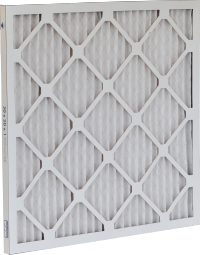 MERV11 20 x 20 x 1, BOX OF 12
MAXI-PLEAT SERIE 1115
Beverage board diecut frame

Synthetic media with an electro-static charge

Only available in high capacity

Available in standard and custom sizes in 1", 2" or 4" depths

Residential, commercial and industrial applications

High efficiency filters, MERV 11 (see brochure)
The filtering media is supported by an expanded metal grid, allowing for a 95% open filtering surface area. Precise pleating methods allow
for an aerodynamic design. The filtering media is a hydrophobic, 100% synthetic material whose performance will not be adversely affected
by humid conditions .
Rigorously controled pleat alignment and spacing insures uniform air travel across the entire surface of the filter. The pleat configuration
allows for good dust holding capacity. Larger dust particles tend to be captured in the top and bottom of the pleats where as smaller particles
will be captured in the sides of the pleat surface.
The Maxi Pleat Merv 11 filter is constructed from a rigid fire - retardant beverage board, to give it outstanding strength and resistance in
tough operating conditions. The filtering media is glued to the frame sides thus eliminating any possibility of air by-passing the filter. Each pleat
point is glued to the frame die cut so that the pleats will not deform over the entire life of the filter. The 4 inch deep pleats have additional
cardboard fingers inserted and glued between each pleat for even greater strength.
Reviews